Browser Power? What One Simple Web Page Can Show You
Here is a wonderfully informative, creative and completely useful page: Outdated Browser. Believe me, skeptics, it may not sound interesting but it's beautifully wrought and completely engaging! It's from a fantastic Portuguese digital design firm: BÜROCRATIK. It lists the most popular web browsers, informs you of the most recent version so you can be as up-to-date as this year's fash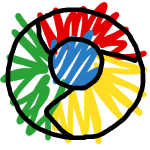 ions, and also tells you the percent of people using that browser. That caught our attention.
Chrome users account for nearly 50% of web surfers at this writing, while Internet Explorer is now a distant second at 23%. Can you say Netscape? Firefox, Safari and even Opera (a personal fav) are listed. Read about their project in the dropdown at the left side of that page.
Then you will learn that the page is part of a larger project to get browsers on personal computers up to date. BÜROCRATIK has developed a very cool snippet of code also called: Outdated Browser. Install it on your way modern, ultra-cool website and it will automatically pop up and tell visitors if their browser is out of date (so they aren't getting the benefit of your glorious CSS3) and tells them how to remedy that.
It doesn't force anyone to do anything. It just points it out and offers a solution.
Some things are so simple and so helpful. Thank you, BÜROCRATIK.