In the Hall of the Pumpkin King
September is in full swing. A harvest "supermoon" has come and gone, leaves are changing, long sleeve shirts are back in fashion, and that also means:
Pumpkin EVERYTHING.
I love the absolute hell out of it, too. I'm fully over my half-hearted concerns about consumerism destroying something magic. As far as I'm concerned, I'm on the bandwagon and playing the violin while it goes full-speed ahead.
It started off innocently enough. Every fall, for about 3 weeks, I'd be able to get slightly overpriced pumpkin-scented coffee, and I'd sit around and blow off work and classes and indulge in the powerful nostalgia that only very-specific kinds of scents can unlock.
Nostalgia is an important indulgence in Autumn for me. I mean, right at the start, it's all "Back To School" and "Never Forget" and "We will Always Remember." It's hard not to sit on the porch and daydream all afternoon about the past summer, or school in the past. It certainly beats the grim outlook for the upcoming season. I'm not a winter person, and I am not enthusiastic about fuel costs, driving in the snow, or really anything that winter brings with it.
But then someone hands me a pumpkin coffee, and a pumpkin muffin.
And I consume them all. Down to the last drop, every single gimmicky Pumpkin item I can find is worth at least one try. Yes, even that Pumpkin wine. We don't have any? We can make some. The internet says we can.
Pumpkins have become my reminder that we've made it through another year. It may not be much, but we have still grown. And that deserves reflection and a little indulgence.
I wanted to write about how they've ruined it for me. About how it's no longer a sprint down memory lane, but a marathon binge-session of memories that doesn't end until we lumber through Thanksgiving and fall face-first into the encroachment of Christmas.  But then I didn't. I stopped worrying and loved the Dunkin'. It's a rich, pure love. You know, gently acknowledging my own consumerism but overlooking it in favor of the warm, fuzzy feelings of family and "home."
So I will eat my pumpkin ravioli and compare the different pumpkin beers, and I will not complain about Dunkin Donuts or Blue Moon for dragging out Pumpkin season as long as they can. They've tapped into something magical.
And I'll try to out-do my last great pumpkin carving too.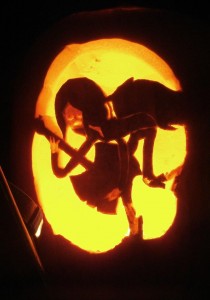 (Look at that glamorous pumpkin.)
I am going to go apple-picking with my family and our friends, and I'll be sure to have my Pumpkin coffee with me.  Because hey, it's Pumpkin season.